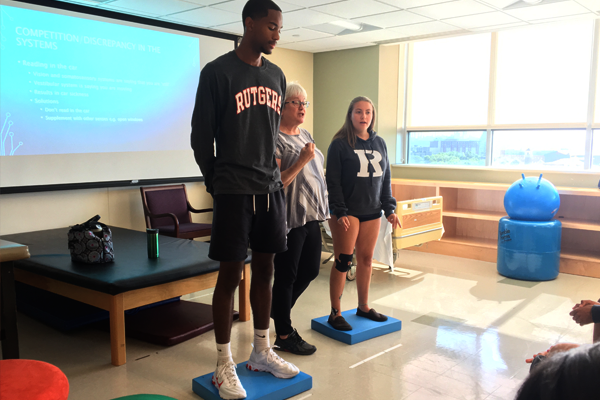 The 2021 Physical Therapy Summer Academy will be held online.
The academy price includes 01:377:144 Foundations of Kinesiology and Health 1.5 credits which can be transferred to Rutgers and other higher education institutions. This is a required course for students who choose to pursue a major in Exercise Science in the Department of Kinesiology and Health at Rutgers University. It is also a course requirement for the DPT 4+3 Program. 
Are you thinking about a career in physical therapy?
Learn about the exciting field of physical therapy and the exercise science major that provides an ideal track at Rutgers University to prepare to apply to a Doctor of Physical Therapy (DPT) Graduate Program.
Students in the Physical Therapy Summer Academy will receive advice on how to prepare for this growing field from academic advisors and professionals in the field. Students will tour the Functional Human Anatomy and Exercise Physiology Labs, and visit the Graduate Rutgers DPT Campuses.   
Gain perspective and exposure to the field of physical therapy 
Learn about the wide range of career opportunities available 
Receive an overview of undergraduate coursework 
Engage with professionals and current DPT student 

Visit the Important Dates page to view the dates and deadlines for the Physical Therapy Summer Academy.
---
Join Us For An Online Information Session
Would you like to learn more about the Physical Therapy Summer Academy?